Best/Worst 2015 : : Digital/New Media
---
Best Intro of a Hashtag:
Mammoth Mountain, Calif.
---
Mammoth has long displayed stunning imagery on its website and in ads. The resort's social media reflects this aesthetic, and both the @mammothmountain and @mammothunbound Instagram accounts boast a large following. This year, engagement efforts were boosted with the #mammothstories hashtag, which was embraced by resort-goers who flooded social media with photos of their Mammoth experiences. The resort furthered this consumer engagement with the release of a retro-styled, wooly mammoth-emblazoned beanie, "the Mammoth Beanie," and invited visitors to purchase it and share photos sporting it. Mammoth also erected a giant 3-D version of the beanie as a billboard on the main highway into the resort, creating a buzz that Mammoth lovers wanted to be a part of. —MW


Best Website Redesigns:
Telluride, Colo., & Squaw Valley/Alpine Meadows, Calif.

As marketers, it's easy to get caught up in the aesthetics of websites. But what good is a site that looks good if it doesn't do what it's supposed to? So, while many people loved the look of the redesigns Squaw/Alpine and Telluride rolled out, it was the marketing behind them that showed their true beauty. Meaning and personalization attached to key clicks, complex tasks distilled to incredibly simple interfaces, interactive elements that let visitors save and bundle important pages, smartly integrated email sign-up forms, innovative concepts in copy or navigation, and more. Perhaps best of all, both sites have been optimized and improved repeatedly since their debuts. It sounds obvious, but that's a surprisingly rare manifestation of a key principle: What you do after your new site launches is often more important that what you do before. —GB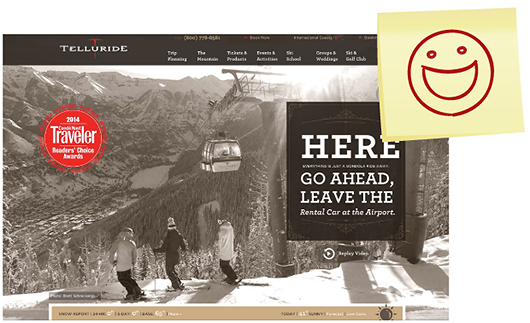 Best Play on Fandemonium :
Wachusett Mountain, Mass.

When the Patriots won the Super Bowl, a 72-hour window of media fandemonium followed, where anything non-Patriots in New England was like a silent fart on a windy night. Capitalizing on the excitement, Wachusett marketers went to Twitter to offer free skiing to anyone named Malcolm Butler—the guy that made the game saving play on the goal line—and a $24 lift ticket if your named contained either "Malcom" or "Butler." The deal rode the coattails of media celebrations and further established Wachusett as a friend of the Patriots—and deals that get you free publicity aligned with a beloved team tend to be worth doing.—AK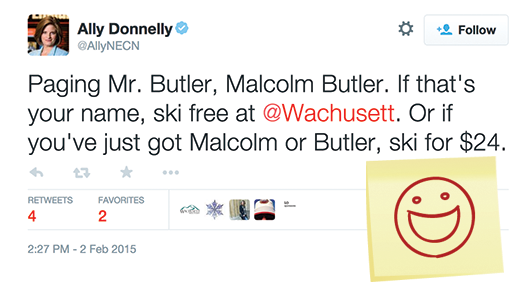 Worst Use of a Meme:
Saddleback, Maine
It's often said that there is no such thing as bad weather, only bad clothing. We skiers know this, but as an industry, we spend a lot of time and resources fighting the sensationalistic press that cold weather typically receives. One post from Saddleback had the potential to undo much of that work. Piggybacking on a meme featuring a snow-covered, frozen Jack Nicholson in The Shining, the white, blockish font sarcastically read, "Go skiing, they said. It'll be fun, they said." Harmless? Perhaps. But a little careless? I think so. Memes can be a great way to capitalize on a commonly understood (and loved) theme or message, but when that message directly opposes reality and scares them away from your core product? That's probably not the right approach. —GB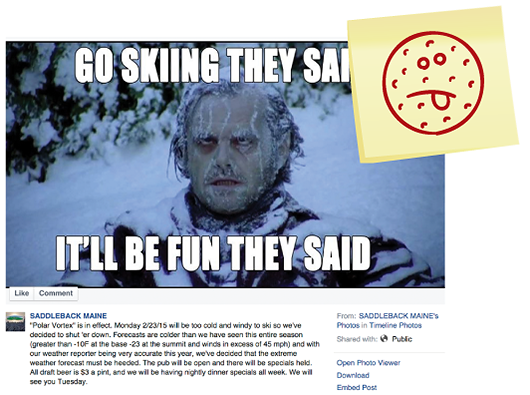 Least Efficient Way to Start Over on Twitter:
Greek Peak, N.Y.

From 2004 to 2008, many resorts struggled with duplicate accounts and lost logins, as interns and seasonal staff were the keepers of test profiles in that weird social media space. So this season, Greek Peak wiped the slate clean and started over at zero on Twitter with the new handle @SkiGreekPeak. The previous @GreekPeakResort handle and its 1,500+ followers were lost. (Actually it is still sitting there, dormant but official looking since March 2014.) The resort worked hard to amass 481 followers for @SkiGreekPeak by early March. Having solved the issue of lost passwords and even squatters in the past, I'm not sure what would have led to this stalemate and restart, but hopefully it wasn't simply a desire to change handles, as that's currently allowed on Twitter at will. Advice? When seeking to solve a technical issue like this, call up and say you want to advertise, but not until problem is solved. They'll fix it.—AK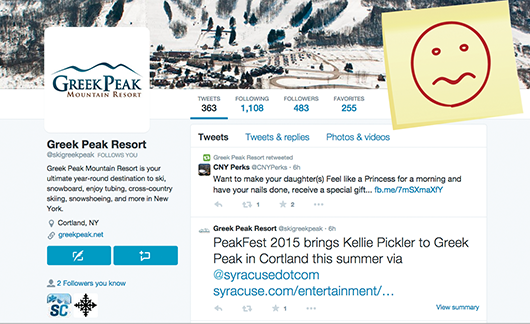 Best Instagram Widget:
Big Boulder, Pa.

What Big Boulder lacks in vertical, it makes up for with creativity, earning the area a devoted consumer audience, especially when it comes to terrain parks. In the height of winter, Big Boulder PARK worked with Snowboarder.com on an interactive digital ad campaign to highlight its terrain park Instagram account (@bigboulderpark) on snowboarder.com's homepage. Building on a traditional banner ad, Boulder received marquee positioning on the site, but was able to curate the photos that appeared in the feed of the large, live-updating widget with up-to-the-minute park updates. The campaign ran for two weeks, and the result was a sizable increase to an already loyal following and new eyes on a burgeoning Mid-Atlantic scene during a great snow year.—MW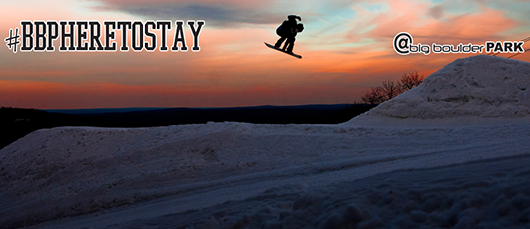 Best Temperature-Related Ticket Promotion:
Blue Mountain, Pa.

What do you do when the weather is all people talk about? Blue Mountain played off that one-dimensional conversation with its Mercury Rising March Deal, a late-season lift ticket offer that provided a discount based on the next day's projected temperature. (As the resort put it: "Daily discounts get hotter near the end of the season.") Guests were encouraged to visit the ski area's website at 5 each evening to check out the next day's discount. If the forecast was in the high 30s, for example, people with a promo code received 30 percent off a lift ticket. Focusing on a positive weather story resonated with guests. The campaign enjoyed a viral effect and was covered by two TV stations. It drove guests to the website, boosting SEO and offering cross-selling opportunities. —SR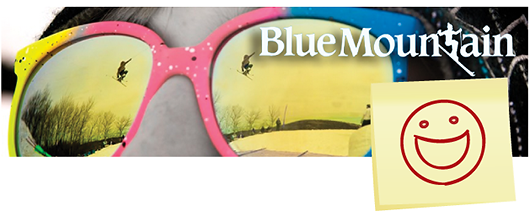 Classiest Low-Snow Response:
China Peak, Calif.

To put it bluntly, winter in Tahoe sucked. Little natural snow and incredibly warm temps were followed by a certain liquid precipitation that shall not be named. Faced with his mountain closing early for the first time in his 40-year career, China Peak's Tim Cohee penned the most authentic, honest letter I have ever read. So many of these attempts try to spin the situation with an unhealthy dose of optimism, but not this one. Articulate, humble, and grateful, Tim's "we're in this together" candor disarmed frustrated skiers and was one of the best resort communications in decades. —GB


Worst Banner Ad:
Okemo, Vt.

This season, Okemo teamed with Snow Park Technologies to redesign its parks. Resort marketers publicized it well and supported it with video. The element that didn't quite fit the campaign was the orange banner ads that ran to promote the partnership. The banners contained more than 45 words, becoming unreadable. Five or less words would have been plenty to hype the partnership, and far more credible with a park-appropriate design. When running banner ads, go for a quick, emotional connection, something akin to: Okemo + SPT = Your New Park. Also consider not using your general public/family skiing hashtag. —AK



Best Wookiee:
Snowshoe Mountain, W. Va.

To set itself apart from other summer destinations, Snowshoe invented Wooly Ted for its "Summer of Adventuring" campaign, which encompassed web, signage, wearables, email, and other forms of PR. Wooly Ted showcased a slew of popular summer activities; mountain biking, zip lining, golf—Wooly did it all. He gained popularity on social media thanks, in part, to an element of humor. A Sasquatch that paddleboards and plays golf is, simply, funny, and kids loved seeing him. Well done. —MR


Best Recovery in Social Media:
Whistler Blackcomb, B.C.

Nothing is more combustible than when ski resorts send out forecasts that promise major dumps, only to find that Mother Nature has taken the night off. During a year in which the Pineapple Express appeared almost weekly, Whistler Blackcomb faced challenges on the social media front, especially regarding the accuracy of the resort's alpine weather forecasts after predicted storms failed to materialize or temperatures rose. In response, the marketing team invited nearly two-dozen B.C.-area journalists and broadcasters for a tour of its snow measurement and weather forecasting capacity. The media lauded WB for its transparency and forthrightness, and helped allay, but not eliminate, customer gripes.—ST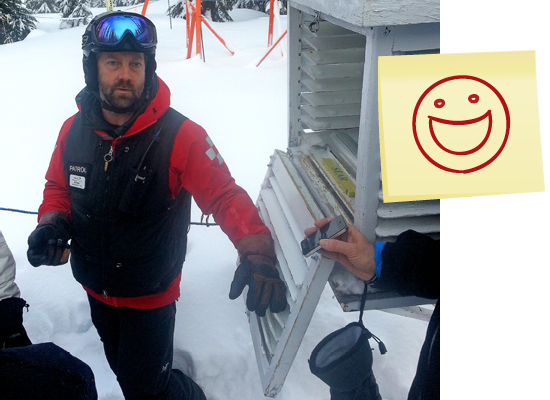 Worst Attempt to Capitalize on a Trend:
Timberline, wV.

The idea was good—capitalize on crowdfunding trend—and the intentions weren't too far off—build self-hosted crowdfunding site to have more control—but by pulling the "Snowfunding" campaign out of the established structures of a Kickstarter or Indiegogo, Timberline failed to recognize the reasons why crowdfunding is a trend, leaving all the urgency, social proof, gamification, simplicity, and trust out of its final release. The result was an underwhelming response that after a month had only raised $3,706 of a $75,000 goal to fund snowmaking and resort improvements. Again, good intentions, but a simple reminder that movements happen for a reason, and until you understand why, it's hard to ride these waves. —GB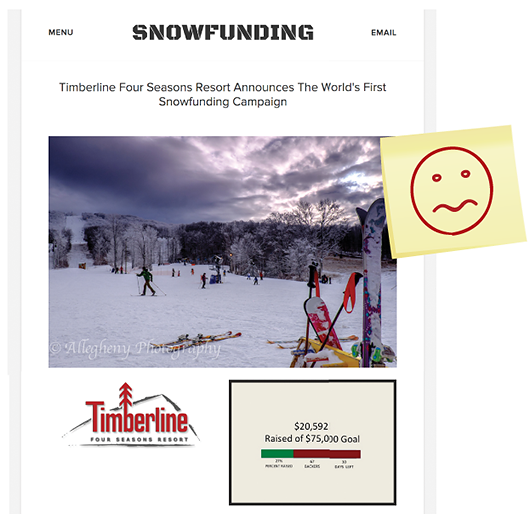 Best Personalized Email Campaign:
Squaw Valley/Alpine Meadows, Calif.

Much like Narcissus looking into his pool, we humans just can't help looking at photos of ourselves. Squaw/Alpine made a play on human nature with an uber-personalized email campaign in which actual season passholder photos were included in individual emails, with the goal of increasing click-to-open rates. "We spend a good amount of time choosing our photo assets for campaigns, and the most effective photo so far is that of the person themselves," said Squaw/Alpine's Tracy Chang. The future of marketing is about personalization. Companies that understand how to customize their marketing messages will continue to make meaningful connections with people.—RM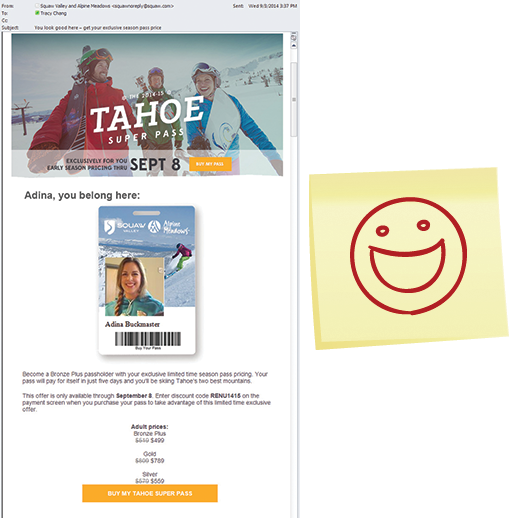 Best Use of Hashtag:
Red Lodge Mountain, Mont.

User-generated content can be a powerful way to tell a story. Telling your story through the eyes of users via (free!) images can be a marketer's dream. But challenges with such campaigns include generating participation, sufficient promotion, and proper re-sharing of images. This year, Red Lodge successfully jumped on this trend, taking to Instagram and Twitter to gather its guest's photos and videos under the hashtag #MyRedLodge. In addition to social media outlets, images were shared instantly on the its website, redlodgemountain.com/myredlodge, which curated all content. And, to encourage participation, monthly prizes were offered for the best photos, which were tagged in a separate "winning photos" gallery. (One ding: An early printed mention of the campaign included Facebook, before realizing that network's prohibitive photo-sharing policies.)—MR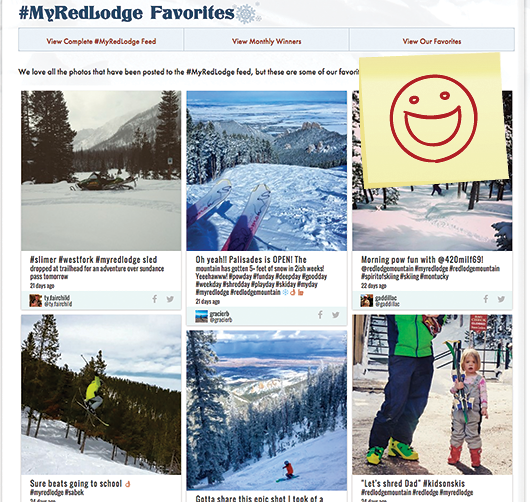 Worst Response to Bogus News:
Poley Mountain, New Brunswick

Poley Mountain, New Brunswick, made the news in early December when a conflagration torched the base lodge. That wasn't the bad part, though. Later in the season, a spoof website known at The Manatee satirically posted an article linking the fire to an exploding meth lab in the lodge's kitchen. The story was convincingly rendered and shared on social media. The resort appeared to ignore the report, even though some people thought the report was legit. Fortunately, Poley defenders came to the resort's defense and helped defuse the fake report's impact.—ST