Table of Contents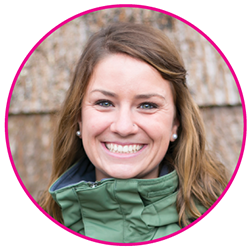 BECCA DESCHENES
Title: Marketing Director, Cranmore Mountain Resort, N.H.
Age: 29
Hometown: North Conway, N.H.
Higher Ed: Plymouth State University (BS and MBA)
Six-word bio: A valley original, adventure-loving enthusiast.
First job in the industry: Snowboard instructor at Cranmore.
How did you get here?
As a child, my dad worked at Cranmore, so I spent a lot of time at the mountain with my sister, scored my first job in the industry at Cranmore teaching snowboarding, and got my "dream job" fresh out of college as the events and marketing coordinator.
A day in the life:
It could be a 4:30 a.m. wake up call for the snow report, grabbing first chair on a powder day, jumping in front of the camera for a video snow report, creating campaigns, planning for the upcoming season, or even throwing on my boots to help teach in ski school. I oversee marketing for not only winter operations, but also summer, a fitness center, and a Halloween attraction, so each day is different.
What do you love most about your job?
Someone once said, "Choose a job you love, and you will never have to work a day in your life." The people, resort culture, and sharing your passion with the world make it effortless to love my job.
What's the biggest challenge in your job?
Trying to convince others that my job really is work.
Who's your professional mentor?
Cranmore's president and general manager Ben Wilcox. Every day is a new lesson working with him, where there are no mistakes, just new learning opportunities. I have a mentor who believes in me not only as a person, but as a young professional, and has given me numerous opportunities to allow me to grow my career here at the mountain.
What makes you a good leader?
When it comes to leadership, I always work with my peers, not above them. I try to stay as open and straightforward as possible, while staying approachable and relatable.
In 10 years?
I'll definitely be in the ski industry. Maybe behind the GM's desk?