Lift Issues Temporarily Close Hesperus Ski Area
SAM Magazine—Durango, Colo., March 3, 2017—The Colorado Passenger Tramway Safety Board identified several deficiencies during a lift inspection at Hesperus Ski Area, including signage, record keeping, general maintenance, and insufficient operator training, prompting management to close the ski area until the issues are addressed.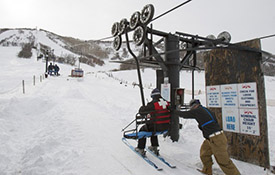 Of particular concern are the training and maintenance issues cited in the CPTSB report. "The lift operators were generally not familiar with the emergency procedures or daily preoperational inspection procedures," the report says. The ski area has also not maintained proper training records for most of its operators, according to the report.
In addition, the report says management and maintenance employees do not follow operational rules and safety regulations of the lift, including scheduled maintenance work, daily pre-op inspections, and record-keeping requirements. According to the report, "Only three of the eight weekly mechanical work orders were complete to date."
Technical issues include the need to replace the lift's chair clips, which, according to a resort spokeswoman, have been ordered. "All of the chair clips that require testing will be tested, and the ski area will remain closed until such tests are completed and any clips are replaced if necessary," she said.
Required signage was missing, including a "Wait Here" sign in the queue near loading area of the bottom terminal. Also missing were "Prepare to Unload" signs on towers approaching the midway and top unloading areas.
Hesperus hopes to re-open after all the issues are addressed, but its season may have been nearing a close anyway. It closed for the winter last year on March 7.