Record Spending, Off-Season Growth at Colorado Mountain Resorts
SAM Magazine—Denver, March 13, 2017—Sales tax collections in Colorado's mountain communities once again reached an all-time high in 2016, mirroring the steep climb of skier visit numbers,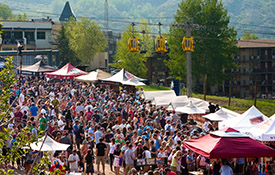 resort revenues, and statewide tourism numbers since 2012, according to a report in The Denver Post. And while winter is still the high season, it's difficult to call the non-winter months the "off-season" any longer.
In Breckenridge, taxable sales increased 9 percent over 2015, thanks to a robust increase in the amount of tax gathered from restaurant, retail, and short-term lodging sales. Breck's vibrant retail marijuana sales jumped 18 percent year-over-year, reaching $1.4 million, though it accounts for less than 2 percent of the total taxable spending in town.
In Aspen, visitor spending in 2016 totaled more than $713 million, a 7 percent increase over the previous year, and up 60 percent from the numbers during the economic collapse of 2009.
While winters remain busy in Colorado's mountain towns, summer is where the growth has been booming in recent years.
According to Jason Blevins of The Denver Post: "The latest sales tax collections show a slight plateauing in July and August, similar to the leveling seen in the winter months years ago. That's pushing growth to the shoulder seasons. The fastest growing months for visits in some high-country destinations are the so-called off-season: September (Steamboat and Aspen), May (Breckenridge, Telluride and Vail) and October (Winter Park)," he said in the report. Tourism tax revenue from both Telluride and Mountain Village is climbing nearly 10 percent faster in those shoulder months versus its busy core season. Spending during those shoulder months is still a far cry from what it is during the high season, but it shows a concerted effort to grow traffic during traditionally slower times.