Attendee inquiries: olivia@saminfo.com | Sponsorship inquiries: sharon@saminfo.com

Focus on growing summer business. We gather experts and fellow operators to share ideas and knowledge about how to increase your bottom line.


Latest and greatest. Learn about the next big summer attractions and activities, and meet vendors who supply them.


Operational best practices. Whether it's your aerial adventure park, summer tubing or mountain bike park, learn how to keep your customers and employees safe during summer months.

By the numbers.

The latest research about summertime and year-round customers will help you make informed decisions.



>>> CLICK HERE to view a list of resorts who have attended Summer Ops Camp.
A look inside one of SAM's Summer Ops Camp...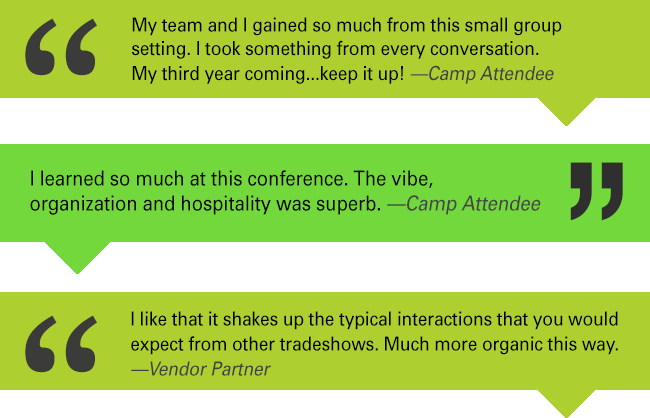 TUESDAY, SEPTEMBER 5TH

10AM - 4PM

Camp Registration

11AM - 4PM

Killington Adventure Center Open to attendees...mountain coaster, zip line racer, ropes course, jump tower, tubing, downhill mountain bike park...and that's just a partial list!

3:30PM - 4:30PM


Operator tour and Q&A of Killington's Adventure Center

4PM - 6PM

Opening sessions and workshops: Summer Market Intelligence...Staff Training Programs.

6PM:

Cocktails on the patio with an exclusive Water Jet Pack demonstration.

6:45PM

Dinner at the UmbrellaBar

8:00PM

After Dark in the Park. Looking for ideas to operate your park after sunset? Join us for glow games in the aerial adventure park and galactic tubing.
WEDNESDAY, SEPTEMBER 6TH

7:30AM - 9AM
Vendor Showcase Breakfast
9AM - 12PM
Morning Sessions and Workshops: Risk Management—Summer Exposures...Marketing—Selling the Summer Experience...Operator Roundtable—Lessons and Success Stories
12PM - 1PM
Lunch and Vendor Demos
1PM - 4PM
Afternoon Sessions and Workshops: Trend Watch...Refreshing Your Park...Comparative ROIs
4PM - 5PM
Demonstrations: Pump Track, Segways, Mountain Bike Skills Park and more...
6PM
Ride the Gondola to Peak Lodge where we will experience fine food, 360-degree views and a special presentation.
8PM
Have you ever been glamping? Lantern walk, s'mores and star gazing. Experience first-hand how to create a one-of-a-kind experience for your customers.
9PM
Last call at the UmbrellaBar
THURSDAY, SEPTEMBER 7TH

7:30AM - 9AM
Vendor Showcase Breakfast
9AM - 12PM
Morning Sessions and Workshops: Small Group Workshops...Programming...Changing Standards and Changing Exposures.
12PM - 1PM
Lunch and Vendor Demos
1PM - 3PM
Downhill Mountain Bike Clinic. Gear Up and join us in the rental shop before heading out on-hill for some epic runs with experts on hand to answer all your questions.
1PM
Optional offsite trips to other area adventure parks. Email liz@saminfo.com to inquire about passes.
EXPLORE KILLINGTON RESORT:
Significant investment and ambitious plans have taken Killington Resort from a summertime afterthought to a warm-season hub. Click HERE to see all Killington has to offer for Summer Ops Camp attendees.
Our camp packages are all inclusive of two nights of lodging, all meals, drinks, camp sessions and on-hill workshops, activities, and vendor networking. One price and done.
SINGLE PACKAGE: $765

DOUBLE PACKAGE: $615

NON-LODGING PACKAGE: $485
Killington Resort: 4763 Killington Rd, Killington, VT 05751

Surrounding Airports:
Burlington, VT International Airport: 1:45 hours from Killington Resort
Albany, NY International Airpot: 2:15 hours
Boston-Logan, MA International Airport: 2:45 hours
Bradley International Airport (Hartford, CT): 2:45 hours

All airports listed above offer on-site rental car companies.


---
2015 Summer Ops attendees visited Mountain Creek for an on-hill bike park tour...
---
SUMMER OPS CAMP 2016
SUMMER OPS CAMP 2015
SUMMER OPS CAMP 2014