Attendee inquiries: olivia@saminfo.com | Sponsorship inquiries: sharon@saminfo.com


Focus on growing summer business. We gather experts and fellow operators to share ideas and knowledge about how to increase your bottom line.


Latest and greatest. Learn about the next big summer attractions and activities, and meet vendors who supply them.


Operational best practices. Whether it's your aerial adventure park, summer tubing or mountain bike park, learn how to keep your customers and employees safe during summer months.

By the numbers.

The latest research about summertime and year-round customers will help you make informed decisions.



>>> CLICK HERE to view a list of resorts who have attended Summer Ops Camp.
A look inside one of SAM's Summer Ops Camp...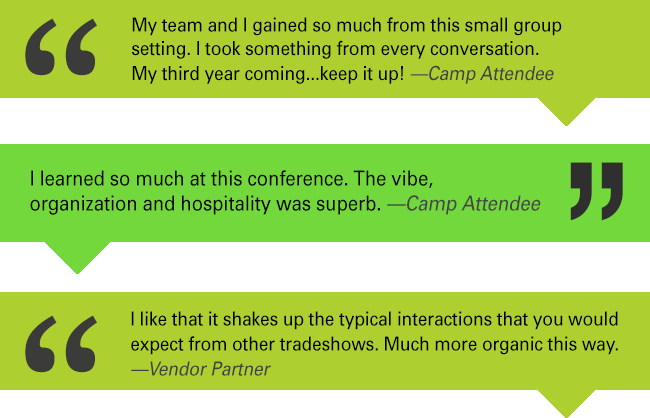 TUESDAY, SEPTEMBER 5TH

10AM - 4PM

Camp Registration

11AM - 4PM

Killington Adventure Center Open to attendees...mountain coaster, zip line racer, aerial adventure course, jump tower, tubing, downhill mountain bike park...and that's just a partial list!

1:30PM - 3:30PM
Mountain Bike Clinic

2:30PM - 3:30PM


Operator tour and Q&A of Killington's Adventure Center

3:30PM - 5:30PM

Opening sessions and workshops:

MINIMIZING HUMAN ERRORS OF AAP GROUND PERSONNEL: KISS TRAINING
As adventure courses become ever more popular in North America, advanced training systems are needed to maximize guest safety and minimize human error mistakes - the most common cause of accidents when assisting and rescuing AAP customers. Discussion will include the Aerial Adventure Academy's (AAA) training techniques developed from lessons learnt from 25 years of the European adventure industry and simple but effective modern methods taught to AAP field staff.

SUMMER MARKET INTELLIGENCE
Summer customers are entirely different from winter guests. How you brand, market and attract summer visitors requires a new approach. Trevor Crist of Inntopia will present market intelligence on the opportunities and hurdles to tapping the summer customer.

6PM:

Cocktails on the patio with an exclusive Flyboarding demonstration.

6:45PM

Dinner at the UmbrellaBar

7:45PM

After Dark in the Park. Looking for ideas to operate your park after sunset? Join us as we present an off the charts fun evening with games, competition and demos of the latest and greatest summer products and activities. Cosmic tubing, Resort Board races, Paint the Night, DJ Jump Tower, night zipping, Night Beast Coaster, local brews and much more.
WEDNESDAY, SEPTEMBER 6TH

7:30AM - 9AM
Vendor Showcase Breakfast
Enjoy breakfast with over 35 vendors specific to summer operations at mountain resorts.
9AM - 12PM
Morning Sessions and Workshops:



"IF I KNEW THEN WHAT I KNOW NOW"
Join SE Group's Claire Humber and operators as they share sage planning advice and cautionary tales about building summer success. From master planning to final implementation lie in-field changes and hidden costs that can hit your budget. But you can navigate the process and profit handsomely if you proceed wisely and with eyes open.

STATE OF THE INDUSTRY
Adventure Park Insider magazine will lead a panel of aerial adventure park experts who will share insights on trends, competition, standards, opportunities and issues all operators face.

MOUNTAIN BIKING RESPONSIBILITY CODE
NSAA has recently developed, with key industry stakeholders, the Mountain Biker's Responsibility Code and a trail signage recommendation. Mark Petrozzi will discuss how these new tools, alongside the old, can positively impact the experience of your guests.

12PM - 1PM
Lunch
1PM - 3:30PM
Afternoon Sessions and Workshops:



TOP 10 SUMMER RISKS
This panel of insurance experts and defense attorneys will review incidents and claims to highlight the 10 biggest summer risks you need to address, from staff performance and inspections to vendor contracts and protecting kids.

GLAMPING
Blessed with abundant beauty and space, but occasionally hampered by building restrictions, ski areas have found a natural fit for expanding their lodging and guest experience options in "glamping"—a catered camping experience that takes much or all of the work out of spending a night in the woods, leaving guests to relax and connect with nature. Whether it's lift served camping, tree houses or upscale tents. The trend is hot and the examples you will hear about will give you plenty to think about.

3:30PM - 5PM

On-Hill Workshops:

Mountain Bike Park: Go behind the scenes with Killington's mountain biking operations and business. Get the lowdown about on-hill trail building, daily operations, rental ROI, bike maintenance, and marketing. Attendees will hear from and ask questions of Killington's bike park manager, Ben Colona, and the Gravity Logic team, and explore what it takes to run a successful mountain bike operation.

ResortBoards: Surf the earth! Take your turn on a ResortBoard - a highly versatile personal transportation vehicle for mountain resorts and an ideal low-impact, high-thrill activity for summer guetsts. Check them out here: www.golfboard.com/resortboard

Aerial Adventure Parks: Aerial Designs will discuss design and construction of aerial adventure parks, ziplines and freefall jump towers including emergency arrest device systems for all these operations.

A hands-on look at advanced AAP rescue & assist methods: Led by Bahman Azarm of Outdoor Ventures, see the simple modern equipment used by field staff in large AAPs in action. This session is a hands-on see & do of rescue & assist equipment and techniques in parks where up to 100 assists per day is common.

6PM
Ride the Gondola to Peak Lodge where we will experience fine food, 360-degree views and a special presentation.
7:45PM
Have you ever been glamping? Lantern walk, s'mores and star gazing. Experience first-hand how to create a one-of-a-kind experience for your customers.
9PM
Last call at the UmbrellaBar
THURSDAY, SEPTEMBER 7TH

7:30AM - 9AM

Vendor Showcase Breakfast
Enjoy breakfast with over 35 vendors specific to summer operations at mountain resorts.

9AM - 10:15AM
Morning Session: Events, Programming and Kids
10:30AM - 12PM
Small Group Workshops: Just Add Water...Guest Education...Summer Patrol...Summer Visas...Optimzing Data to Increase Profits...Downhill Mountain Bike Park
12PM - 1PM
Lunch and Vendor Demos
1PM - 3PM
Downhill Mountain Bike Clinic: Trail Design and Pogression. Gear Up and join us in the rental shop before heading out on-hill for some epic runs with experts on hand to answer all your questions.
1PM
Optional offsite trips include Huttopia White Mountains, Highland Mountain Bike Park and Adirondack Extreme. Email liz@saminfo.com to inquire about passes.
EXPLORE KILLINGTON RESORT:
Significant investment and ambitious plans have taken Killington Resort from a summertime afterthought to a warm-season hub. Click HERE to see all Killington has to offer for Summer Ops Camp attendees.
Our camp packages are all inclusive of two nights of lodging, all meals, drinks, camp sessions and on-hill workshops, activities, and vendor networking. One price and done.
SINGLE PACKAGE: $765

DOUBLE PACKAGE: $615

NON-LODGING PACKAGE: $485
Killington Resort: 4763 Killington Rd, Killington, VT 05751

Surrounding Airports:
Burlington, VT International Airport: 1:45 hours from Killington Resort
Albany, NY International Airpot: 2:15 hours
Boston-Logan, MA International Airport: 2:45 hours
Bradley International Airport (Hartford, CT): 2:45 hours

All airports listed above offer on-site rental car companies.


---
2015 Summer Ops attendees visited Mountain Creek for an on-hill bike park tour...
---
SUMMER OPS CAMP 2016
SUMMER OPS CAMP 2015
SUMMER OPS CAMP 2014