Table of Contents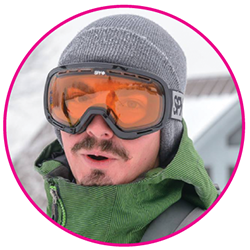 STIRLING COBB
Title: Marketing and Communications Manager, Mt. Bachelor, Ore.
Age: 25
Hometown: Peru, Vt.
Higher Ed: University of Vermont
Six-word bio: Young professional, rugged boy
First job in the industry: Kids ski school instructor at Stratton Mountain, Vt., in high school.
How did you get here?
My dad [the late Mike Cobb] was in sales and marketing for multiple ski areas, including Stratton. I didn't necessarily think I'd follow in his path, but post-college, I knew I wanted to come out West. I landed in Bend, and definitely wanted to do something for the mountain.
A day in the life:
A combination of things. Making sure our communication out to the public is dialed and accurately reflects the conditions of the day. Checking in with mountain communications. Story telling and content marketing. Probably the largest responsibilities of my job at the moment are email marketing and PR. I've still managed to ski 100 days this year—getting out on the mountain to talk to guests and enjoy the sport of skiing is also super important to me.
Why do you love your job?
The ski industry has helped shape my lifestyle, so giving back to the sport is a huge and motivational opportunity. And, it's fun. Every day my team and I get to connect with people through sharing the experiences of skiing and snowboarding. In my mind, it's important to maintain a playful and lighthearted approach to navigating the professional landscape of the ski industry.
You were president of UVM's freeskiing club in college. How did that inform your career?
In that role, I was managing other officers and a team of 50 athletes. It was a good entry-level view of the ski industry, as well as a good introduction to ski industry relationships, sponsorship development, and building and executing events.
How do you think your age helps with your job?
I think I'm just innately more connected to what's newer, and have a better gut understanding for what can be effective in content marketing. Just being able to contribute and identify quality content is pretty key in this day and age. It helps me to make a legitimate connection with our followers.
What's an accomplishment you're proud of?
I helped start a video series called "Why I love Mt. Bachelor," featuring local athletes and longtime employees. It told the story of a few influential people at the mountain, and their connection to the Mt. Bachelor culture. It's been fun to work with the videographer and producer, and a cool thing to be a part of.
Who's your professional mentor?
I'd have to say my dad. Whether it was intentional or not, I learned a lot about marketing and the resort lifestyle by living under his roof.
In 10 years?
I'll definitely be doing something related to skiing and the ski industry. I love marketing, so it'll be something related to marketing and sharing stories of the mountain, or people who have compelling stories that should be heard.